The bruu award goes to ENRIQUE IGLESIAS as well,Francis fav' singer..he by hearted the whole "escape"album...thank you !
The bruu award goes to HRITHIK ROSHAN Instead of whatever!!!hrithik looks alike our francis!!take a look at him...
the bruu award goes to kurt cobain ..thank you for the never mind album..and the in utero album...francis loved your "the man who sold the world" song....hopin' you two have met up there!
salman oppps lala!!!
salim...pitt!!
The bruu award goes to SAlman khan and brad pitt for lookin alike...ahem..lala and salima....we deserve it right lala???
Goodcharlotte-!
Thebruu award for the best new album goes
to goodcharlotte..hits includes "say anything"
"wondering'...check out "SAy anything guys
its the best one in the album!
Paul an red card a hmu lai!!!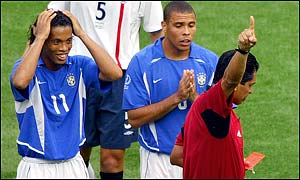 The bruu award goes to
ronaldinho for makin' us
smile..and ahem for lookin'
alike paul..i swear that paul
and ronaldinho are brothers!!
genetics i guess!!!i love you paul!
Israel says the he looks like
PAULWALKER,,in ang na pawh
ka hre laa...anyways Bruu award
for i dont know goes to ISA,,AND
PAULWALKER..IN IN ANG NA
BRUU ISA KA HRE LA..KA HRE MIAH
LO..HE H EH !!!
Paulwalker--isa'!!